Support staff
Back to the
List of support staff
Peter Šereš, MScE
MR Research Associate
Department of Biomedical Engineering, University of Alberta
Scanner operation, MR System Maintenance/Engineering
Phone nr: 780-492-6397
Search for all publications in PubMed
---
Staff spotlight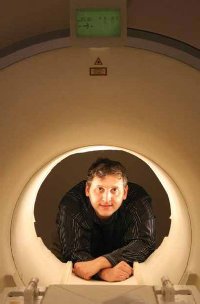 Folio article
PDF file
Education:
B.Sc. (1999) Information Science, Slovak Technical University, Slovak Rep.
M.Sc.E. (2001) Automation & Control, Slovak Technical University, Slovak Rep.
Joined University of Alberta in March 2003
My responsibilities are to provide MRI (magnetic resonance imaging) experiments and analysis for the researchers using Peter S. Allen MR Research Centre, both in development of new techniques as well as in clinical research; also to provide technical support - in terms of MRI and ancillary equipment and computer/network infrastructure.
Collaborators are from a variety of faculties and departments across the University of Alberta, such as Dept. of Neurology research (Dr. Kalra, Dr. Blevins, Dr. Gross), Division of Physical Medicine and Rehabilitation - spinal cord injury research (Dr. Mushahwar) and Dept. of Biomedical Engineering research (Dr. Malykhin, Dr. Wilman).
My main area of expertise is neuro imaging, functional MRI and MR Spectroscopy in particular, with additional focus on new methods such as QSM (quantitative susceptibility mapping) as well as MSK imaging and high-resolution imaging, using all magnets and platforms we have available. These techniques are allowing us to observe changes in brain functionality, changes in the brain metabolites, or evaluate iron content in-vivo.
Current studies cover research of neurological disorders, such as ALS and
Multiple sclerosis (MS)
and spinal cord injuries (human and pre-clinical research).
I'm also involved in collaborating in several mutli-site research studies, which bring the unique challanges of having to understand limitations of different vendors and platforms used in the MRI field. because of this I have gained some basic understanding of GE and Philips systems as well.
Analysis includes programming in MATLAB as well as using commercial software packages, such as LCModel.
I also assist our Senior Engineer, Karim Damji, in system maintenance and troubleshooting.
I have volunteered as Web Editor for International Society of Magnetic Resonance in Medicine (
ISMRM
) in 2009-2013.
As you can see from my educational information, I come from a small Central-European country,
Slovak Republic
(Slovakia) (part of former Czechoslovakia). After finishing my university studies (and gathering some experience as network administrator at the same time) I moved to Dusseldorf, Germany for a year. I worked in the Endocrinology Research Lab at the University Hospital. I live in Edmonton, AB since January 2003. Since January 2007 I am proud to be a Canadian Citizen.
Relevant Publications
Other Publications
Seres J., Bornstein S.R., Seres P., Willenberg H.S., Schulte K.M., Scherbaum W.A., Ehrhart-Bornstein M., Corticotropin-releasing hormone system in human adipose tissue., J Clin Endocrinol Metab. 2004 Feb;89(2):965-70. [PMID: 14764822]