Student opportunities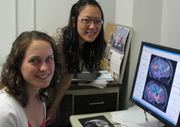 Depending on your level of interest in the field of magnetic resonance (MR), you can choose a program - and a supervisor - accordingly. From MR engineering (coil and/or sequence developement) or applied clinical studies with one of the
Biomedical engineering
professors, to a clinical field that uses MR as one of the tools, with one of our
clinical collaborators
.
So indeed, students in the facility come from all kinds of different backgrounds - medical physics, biomedical engineering, medicine, computer science, neuroscience, being enrolled in one of the programs of various departments or even other universities (University of British Columbia). And although we accommodate a lot of students from clinical fields - psychiatry, neurology, psychology, even those directly involved with the centre find their career choices pretty wide open, as you can see in our list of
past students
.
We encourage you to check out also
projects
currently running to get an idea of what is usually going on. And of course, have a look at the
MRI systems
we use, or a take quick tour of other
labs
that are part of the Centre!
There are several
courses offered by BME
(Department of Biomedical Engineering), including 3 undergraduate and 4 graduate courses (e.g. Human Anatomy and Physiology, Imaging Methods in Medicine, Fundamentals of Magnetic Resonance Imaging, Magnetic Resonance in Medicine or Digital Computer Processing of Images). Programs offered are leading to the degree of
Master of Science in Biomedical Engineering
and to the degree of
Doctor of Philosophy in Medical Science
. The latter degree is obtained through interdisciplinary programs administered by the
Faculty of Medicine
.
Students can also enroll in the
Neurosciences graduate program
.
The key to registration in a particular program is that the chosen Supervisor have an appointment (either the main appointment or an adjunct appointment) in the department offering that program.
---
Dr. Christian Beaulieu, PhD
is looking for:
MSc, PhD, PDF
(Diffusion tensor imaging, Sodium Imaging, Stroke, Epilepsy, Brain development in children and aging, Fetal alcohol spectrum disorder, Dyslexia, Osteoarthritis)
Dr. Nikolai Malykhin, MD PhD
is looking for:
MSc, PhD
(Computational neuroanatomy, Hippocampal neuroplasticity and neurogenesis in neuropsychiatric disorders, Aging brain)
Richard Thompson, PhD
is looking for:
MSc, PhD, PDF
(Heart and lung imaging)
Alan Wilman, PhD
is looking for:
MSc, PhD
(High field imaging, susceptibility mapping, angiography)
Dr. Carol Boliek
is looking for:
PhD Level Students
(Cerebral Palsy)
Dr. Ken Butcher
is looking for:
MSc, PhD
(Stroke)
Dr. Sanjay Kalra
is looking for:
Postdoc
(Amyotrophic Lateral Sclerosis (ALS))
Dr. Ordan Lehmann
is looking for:
masters / PhD
(Inherited ocular disease, glaucoma, structural CNS anomalies)
Dr. Vivian Mushahwar
is looking for:
MSc, PhD, Post-doc, Clinical Fellows
(Spinal Cord Injury)
Dr. Eric Parent
is looking for:
M.Sc. AND Ph.D.
(Scoliosis, Low back pain, Effect of exercises)