MR Faculty staff
Back to
MR Faculty staff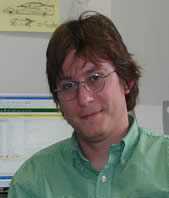 Dr. Nikolai Malykhin, MD PhD
Assistant Professor
Department of Biomedical Engineering, University of Alberta
Areas of research:
Computational neuroanatomy, Hippocampal neuroplasticity and neurogenesis in neuropsychiatric disorders, Aging brain
Looking for students:
MSc, PhD
Phone nr: 780-248-1120
External website:
http://www.ualberta.ca/~nikolai/home.html
Search for all publications in PubMed
---
1069 Research Transition Facility
University of Alberta
Edmonton, AB, Canada T6G 2V2
Education:
Fellow, Department of Psychiatry, University of Alberta, 2004-2008
PhD in Psychiatry, Belarussian State Medical University, 2003
Residency in Psychiatry, Republican Cliical Psychiatric Hospital & Belarussian Medical Academy of Postgraduate Education, 1998-1999
MD Diploma, Belarussian State Medical University, 1992-1998
My Research:
My main interest is in the neurobiology and psychopharmacology of mood and anxiety disorders, with specific focus on the limbic system. We use advanced MRI applications (high-resolution volumetric MRI, diffusion tensor imaging (DTI) and magnetic resonance spectroscopy (MRS)) to study the organization and functions of the human brain. Neuroimaging research in my lab involves extensive collaborations between departments of Biomedical Engineering, Psychiatry, Neurology and Centre for Neuroscience.
For more detailed information about my research projects, please click here to go to my profile at the University of Alberta Department of Biomedical Engineering website.